Give Your Team the Gift of Calm and Creativity.
Build Connection & Spur Innovation.
Volta's workshop approach is to encourage everyone to discover their inner artist by teaching guests easy and creative techniques for self expression that improve mental health.
The result is a supportive experience and safe space for creative exploration that goes beyond the workshop – it's an invitation to practice creative self care and use creativity for mental wellbeing.
---
---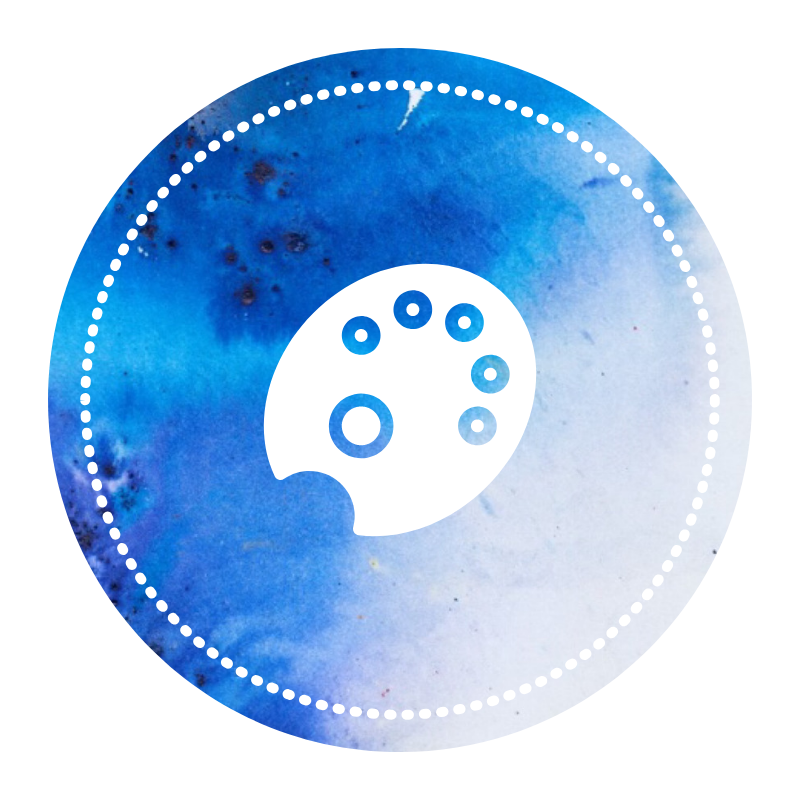 Why Watercolors
Watercolor painting is an easy and relaxing medium fit for any skill level, whether a newbie or full-fledged artist of any age can enjoy it
Watercolors are a relaxing & meditative medium
Watercolor are low maintenance, easy to clean up/pack-up, and perfect to jumpstart a creative habit
Watercolor painting is a memorable activity to unwind after a long or hectic day at work
The Creative Experience
A private creative experience for your guests
Beginner friendly instructions that foster creative thinking
Introduction to the Tools, Techniques, Styles, Exercises
This private workshop fosters creative thinking, encourages self-expression in a fun creative-play setting, and a great community-building experience for the participants
Supplies
Watercolor supplies (paper, brush and watercolor kit) available upon request
Recommended supplies PDF
Detailed take-home instructions to help continue skill building

---
Watercolor Workshops Are Great For:
Corporate Team Retreats
Corporate Team Building
Corporate Wellness Events
Events and Conferences
Birthday Parties
Wedding Showers
---
Sample Workshop Themes
Past Workshops

A Glimpse Inside My Workshops
Select Past Clients
Dallas Mavericks
Michaels Stores
Frito-Lay
Pensions
Legal Shield Corp
Amon Carter Museum of American Art
IIDA Michigan
BuzzFeed
Meta
HomeDepot
Junior League of New York
Cherry Bombe
The Other Art Fair
---
What People Are Saying
Volta is an absolute pleasure to partner with! Her personality and teaching is whimsical, vibrant and so much fun just like her beautiful watercolor artwork. I was lucky enough to have a private class with Volta for a personalized creativity session for a client I was hosting in Plano. When I reached out to Volta about the class, she was so accommodating with the location, date/time, and even offered to customize a design that was catered to my client. She was quick at responding and confirming all the details, which made my job a lot easier. When my client and I showed up, Volta had a beautiful display setup for us with a large variety watercolor set, cute mason jars for water, and different sized brushes for us to use. Her teaching and patience were so refreshing and really put my client and I both at ease after a busy filled day. I'm looking forward to my next project with Volta and can't wait to create something with her again soon.

I highly recommend you working with Volta! She is such a breath of fresh air and you will be surprised on what you're able to create once learning all the fabulous techniques from her.

Marisa Obando, Sales Manager at Visit Plano
Volta led an introductory watercolor workshop virtually in the fall of 2020 for the Amon Carter Museum of American Art, and it was such a hit! We had a lot of fun learning the basics and her thoughtful teaching style meant everyone was on the same page and understood the process together. Her virtual setup was perfect for remote workshop participation, and she regularly checked in with all the Zoomers to make sure no one was confused. She focused on two artworks in our collection, and we had so much fun recreating them at home! I look forward to working with Volta again in the future!

Madeleine Fitzgerald, Program Manager at The Amon Carter Museum
Recently, I participated in her Watercolor Meditations workshop through a Creative Mornings virtual field trip that was amazing–I learned 6 different ways I can meditate using watercolors, each way providing a different meditative experience based on what I might need in the moment. Volta was a great teacher, constantly guiding us with easy to follow examples and reminding us that there was "no right way" to do it, but that we should just let our creativity flow and see what happens.

If you are looking for someone to help you start your watercolor journey or to bring a spark of creativity into your company, Volta is definitely the right person to help you do that.

Paige Poole
I consider myself a very beginner artist. I enjoy the idea of art and I own some supplies, but when it comes to actually knowing where to start, I felt stumped, and frankly overwhelmed and inadequate.

Taking Volta's class completely changed my artistic life-not just in skill level, but in comfort. She gave me the confidence I needed to begin. She was so patient and kind, and I never felt emarassed to ask questions or raise my hand for a little more help. Now I feel like I know the basics and enjoy relaxing with some watercolor in the evenings.
If you are someone who would like to learn but feels they don't even know where to begin, Volta is the right person for you. She is patient and exceedingly kind – exactly what you want in a teacher. I can't wait until her next class!

Tania G. @runtoradiance
"Volta is so talented, and just the sweetest person. I absolutely loved her watercolor workshop the first time I took it. We painted vegetables. Vegetables! And I loved every minute of it. She gives great, simple instructions, and my veggies turned out super cute. I also loved the materials she used, they're accessible and affordable. I had my husband order me the brushes, watercolors, and paper from Amazon after that workshop. I've since then done some watercolors at home. I recently took another workshop with her, this time was a beautiful dream catcher. So much fun! I'd definitely take more of her classes in the future. She also does private events! Maybe I'll do that one year for my birthday or something."

Irene H. @chompdallas
"We wanted to do something creative as our team building, and Colorsnack's workshop was not only so much fun, but extremely therapeutic and relaxing. Volta is extremely personable, and her instructiveness made for an easy learning experience. Our whole team talked about it for days after!"

Chef Reyna Duong, Sandwich Hag
Pricing
Pricing depends on the number of participants and duration of the workshop.
Interested in a quote? Fill out the form below!