Welcome to my newest online class – Watercolor Meditations!
I created this class for anyone who wants to find a moment of creative relaxation, regardless of their art skill level.
The class is composed of a series of watercolor meditations, or exercises, that combine breathing and mindfulness tips along with colorful watercolor techniques.
What's included in the class:
lifetime access to the lessons
introduction & suggestion of watercolor supplies
basic watercolor techniques
As Seen in Dallas Observer
Ever since the pandemic started, I kept coming back to my meditation practice to deal with anxiety. Being an artist as well, I started combining some of the breathing exercises for mindfulness with simple watercolor techniques, which not only helped me regain my peace but also left me with a colorful painting as a result.
Thank you to the incredible Leah Frazier for including me in this article from Dallas Observer. Link to read.
Testimonials From Past Workshop Students
"Volta is so talented, and just the sweetest person. I absolutely loved her watercolor workshop the first time I took it. We painted vegetables. Vegetables! And I loved every minute of it. She gives great, simple instructions, and my veggies turned out super cute. I also loved the materials she used, they're accessible and affordable. I had my husband order me the brushes, watercolors, and paper from Amazon after that workshop. I've since then done some watercolors at home. I recently took another workshop with her, this time was a beautiful dream catcher. So much fun! I'd definitely take more of her classes in the future. She also does private events! Maybe I'll do that one year for my birthday or something.
– Irene H."
---
"I attended Volta's free workshop with Creative Mornings. I had so much fun enjoying learning watercolor techniques and then creating fun and relaxing patterns with them. It was the best way to spend my Saturday morning!" – Rebecca Prince
---
"We wanted to do something creative as our team building, and Colorsnack's workshop was not only so much fun, but extremely therapeutic and relaxing. Volta is extremely personable, and her instructiveness made for an easy learning experience. Our whole team talked about it for days after!" Chef Reyna Duong, Sandwich Hag
---
I consider myself a very beginner artist. I enjoy the idea of art and I own some supplies, but when it comes to actually knowing where to start, I felt stumped, and frankly overwhelmed and inadequate.

Taking Volta's class completely changed my artistic life-not just in skill level, but in comfort. She gave me the confidence I needed to begin. She was so patient and kind, and I never felt emarassed to ask questions or raise my hand for a little more help. Now I feel like I know the basics and enjoy relaxing with some watercolor in the evenings.
If you are someone who would like to learn but feels they don't even know where to begin, Volta is the right person for you. She is patient and exceedingly kind – exactly what you want in a teacher. I can't wait until her next class!
Tania G. @runtoradiance
---
I didn't know I needed this creative release. So glad I attended this watercolor workshop.
Ger R. @thedesignergene
---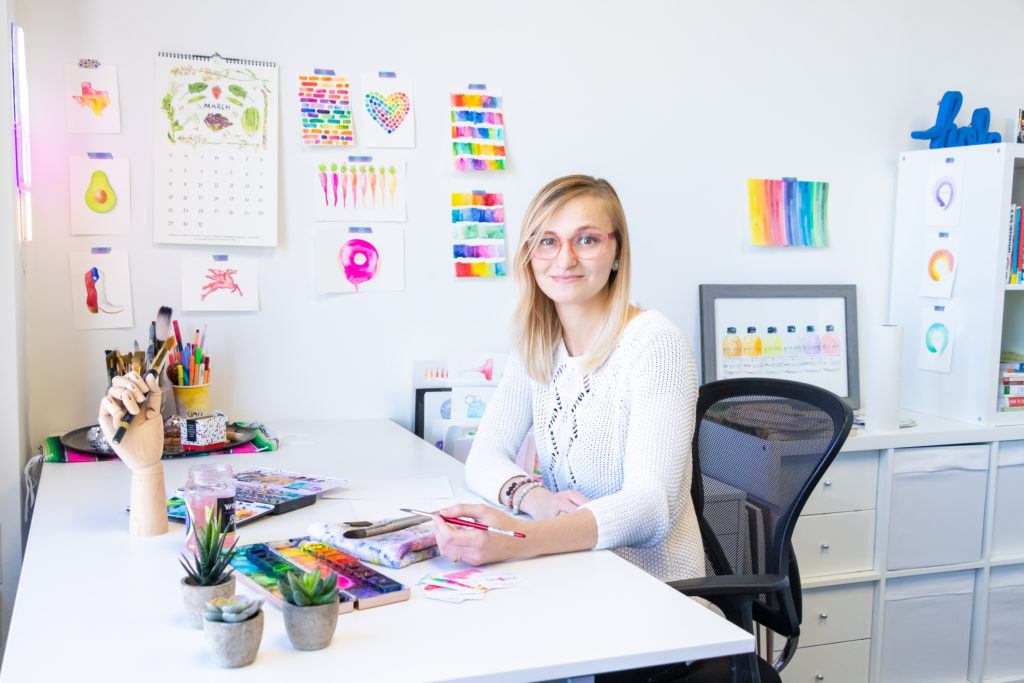 About Volta:
Volta's workshop approach is to encourage everyone to discover their inner artist by teaching guests easy and creative techniques for self expression. To this day, she has taught thousands of students in person and online and has lead workshop brand activations for notable brands like Dallas Mavericks during Art + Basketball Night.
Sample Art From Course Material