Happy Color Snack Sunday, friends!
Welcome to another sketchbook tour! This sketchbook is a little more special than my other ones because I made it myself. A few years ago I started collecting the brown delivery bags from Amazon Prime Now, thinking I would recycle them. Then one day I decided to try out and make a sketchbook out of that paper.
I used Sea Lemon's tutorial on how to bind this DIY sketchbook: https://www.youtube.com/watch?v=S2FRK…
Even though the binding isn't the best, and I probably didn't use strong enough string, I still managed to make a sketchbook and it's held up for two years! I've recently re-discovered it and decided to fill it up with some fun sketches.
Aside from it just being something I made, I love drawing on these toned sketchbook pages because there is no fear of messing up. These brown paper pages are already imperfect and some of theme even have logos and other text on there already. Every page now becomes a ground for exploration. And that's exactly what I did with it – I just had fun, without any plans or worries if it was Insta-perfect (what is that anyway). I highly recommend this! Watch the full video to see how I filled it up. 🙂
(some of these posts may contain affiliate links, which are at no extra charge to you, but help me keep running this blog)
Toned Sketchbook Tour – DIY Sketchbook
Recommended Art Supplies
Here are some ideas for art supplies that I used and which will work great for toned sketchbook paper (whether you decide to upcycle brown paper bags or not;))
A few sketchbook page spreads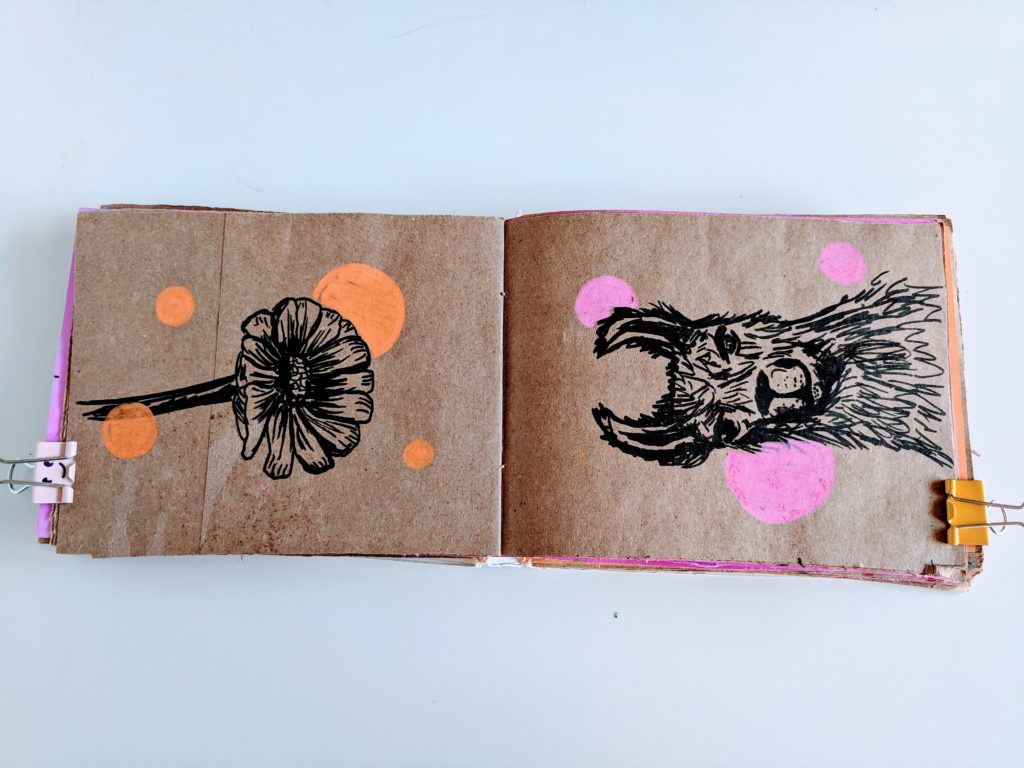 Let me know if you end up giving such a sketchbook a try!
Have an art day & stay creative,
Volta
---