Hi Sweet Friend,
In this week's episode of Watercolor Happy Hour (our live show on Linkedin/Youtube/Facebook), we'll be celebrating the iconic Hatch Chile Pepper.

What is a Hatch Chile?
Hatch Chiles are a variety of New Mexican chile pepper, grown in southern New Mexico near the town of Hatch. The soil, altitude, and rich volcanic ash make this area perfect for growing one of the tastiest peppers you'll ever eat.
How Do I Get My Hands on One?
In general, hatch chiles are available in many grocery stores from September through October.
These peppers are seasonal to August-September and they are harvested in the Hatch Valley in New Mexico, where they get their name from.
The flavor is unlike anything I've experienced before, so if you see them in your local grocery store, grab some. The flavor is rich, with an earthy undertone. The heat is also very tingly…. like a fire on your tongue.
Hatch peppers are typically enjoyed roasted. I love to roast them (sometimes with tomatoes), chop them up, and put them in a quesadilla. Their flavor is reminiscent of a green pepper or bell pepper, but with a slight smoky flavor.
I was fascinated by videos of hatch peppers getting roasted, hence what inspired the animation below. The peppers turn dark and the skins start to peel off.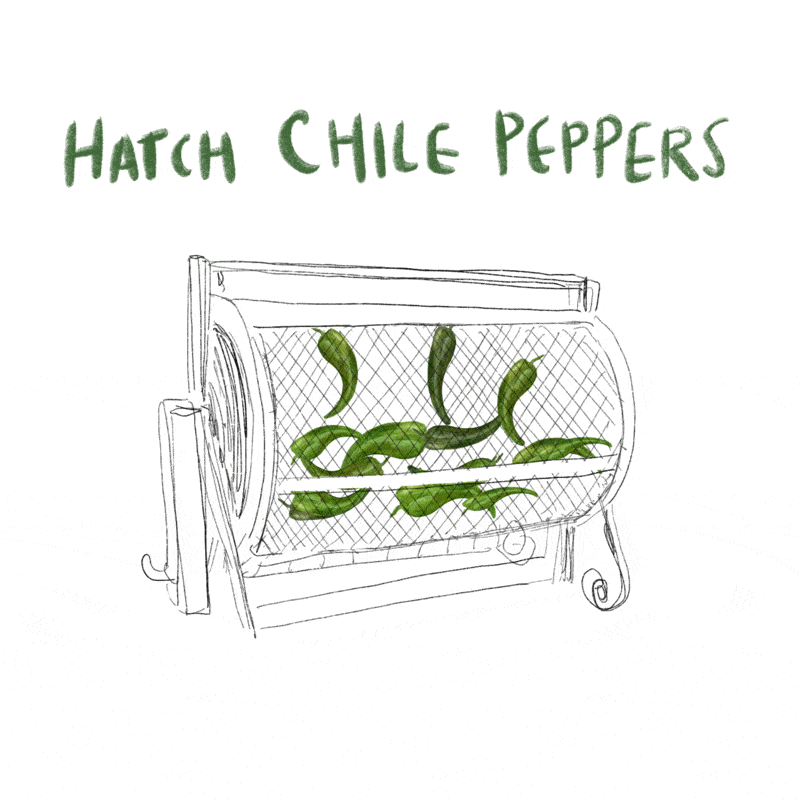 The roasting process is cool, but what I really love are the recipes that you can make with hatch chiles. Since they're available only for a limited time, these recipes are perfect for using up the whole batch.
This brings me to our Hatch Daiquiri Cocktail!
Check out the ingredients below and watch our live show to see how to make it and how to paint it with watercolors!
Hatch Daiquiri Cocktail Ingredients
1 oz Rhum Agricole
3/4 oz Nixta Liquer
1 tbs roasted diced hatch chile
1/2 oz lemon juice
1/2 oz Orgeat syrup