Happy Color Snack Sunday, friends!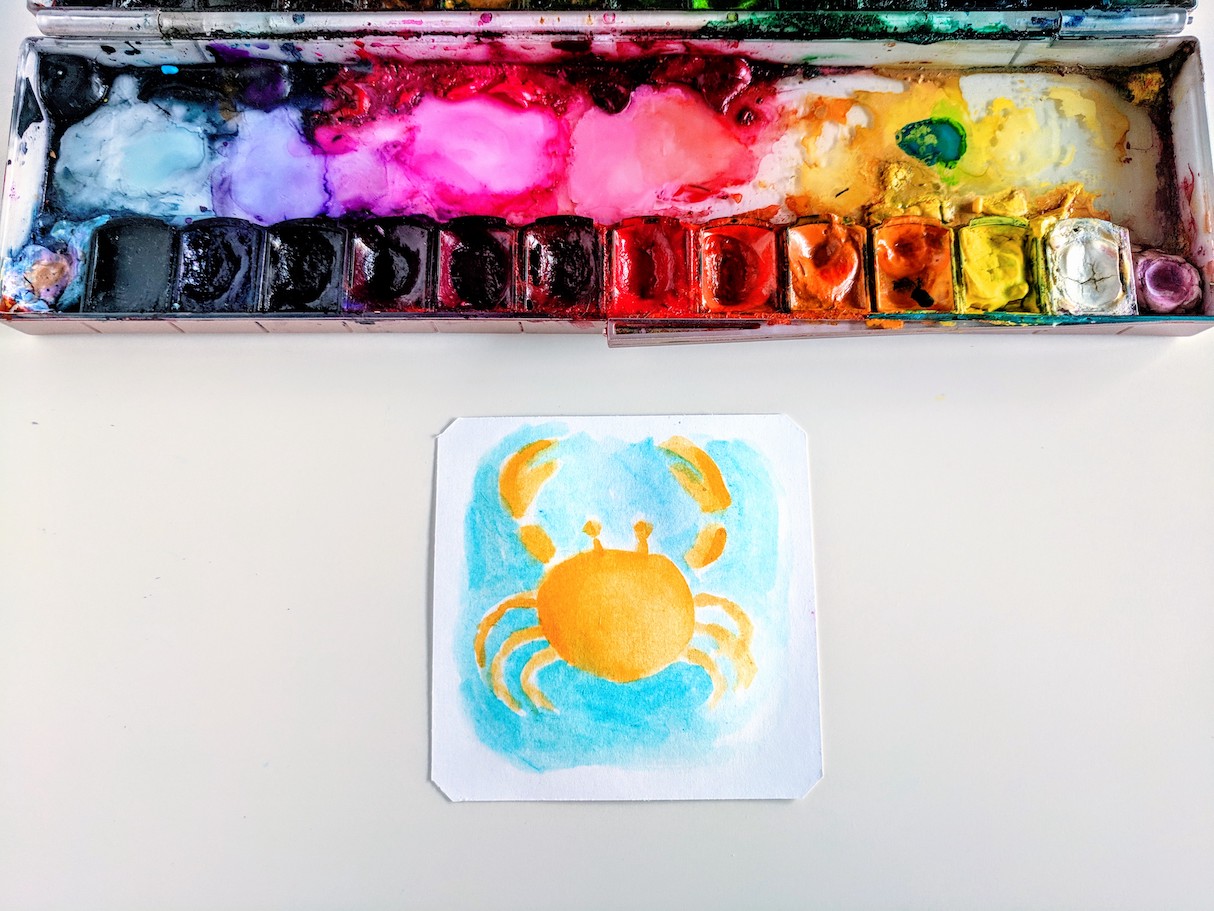 Today, let's sketch a cute little watercolor crab. I find crabs fascinating, with their hard shells and their scurried walks on the beach 🙂
This is another super easy sketch that you can do quickly in your sketchbook or on one of the art tiles I am using. While these tiles are not for watercolor, they can take several (less wet) layers of watercolors. I also like how tiny and compact they are. And if you ruin it, you can toss it and grab another one – no harm done.
Happy Sketching!
(some of these posts may contain affiliate links, which are at no extra charge to you, but help me keep running this blog)
How to Paint a Crab – Quick Instructional Video
(Recommended) Watercolor Supplies:
watercolors

colors used in this tutorial:  Prima Watercolors

Artist Tile
Water brush
Paper towel/towel
Your creativity
A photo of a crab for reference
Let's get to sketchin'!
How to Sketch a Watercolor Crab
Step 1. Wet the paper

Wet the watercolor paper with a thin layer of water. In this case I am using a flat brush to cover the whole area quicker.
For the wet-on-wet technique it's important to not add too much water.  You want a smooth, glazed surface, instead of paper that is dripping with water.
Step 2. Sketch the body of the crab.
Start sketching the crab as a circular-like shape with a slight angle at the bottom.
Step 3. Sketch the crab's claws
The crab's claws will be composed of simple shapes: a small rectangle and a curved line that resembles a tulip.
Step 4. Crab's legs
For the crab's legs, think of them as one curved line that is composed of 4 brush strokes. Each line is slightly curving towards the crab. This also helps show the natural joints that a crab leg may have.
Step 5. Sketching the eyes
Our happy little watercolor crab will need some eyes. Those are composed of a line and a dot at the end.
Step 6.Fill in the background
Fill in the background with a blue shade of watercolor. I am using the blue pastel here and going carefully around the crab sketch with my waterbrush. Since we are not using traditional watercolor paper, I will not re-wet the surface when I fill in the background. Otherwise, the tile might mess up if it takes on too many watercolor layers.
---