Easy Valentine's Day Card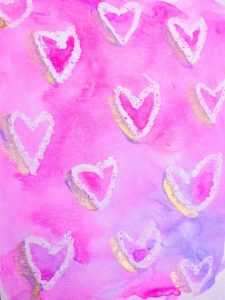 Happy Color Snack Sunday, sweet friends!
I love any excuse to celebrate Love and all that entails. So I'm super excited to share with you today a fun and easy watercolor Valentine's day card. I used white oil pastels for the heart shapes and they created a nice resist to the watercolors. You could decorate a whole sketchbook page with this pattern or send it off to a friend who needs a reminder of self love.
Have an art day & I can't wait to see what you create!
(some of these posts may contain affiliate links, which are at no extra charge to you, but help me keep running this blog)
Valentine's Day Card Using Watercolors
Supplies Used:
watercolors
watercolor paper from Canson
Pentel Brush Pen
oil pastels
Water brush
Paper towel/towel
Your creativity
I hope you give this a try, and if you do, share it & tag me @colorsnack on Instagram so I can admire your work!
---