Happy Color Snack Sunday, friends!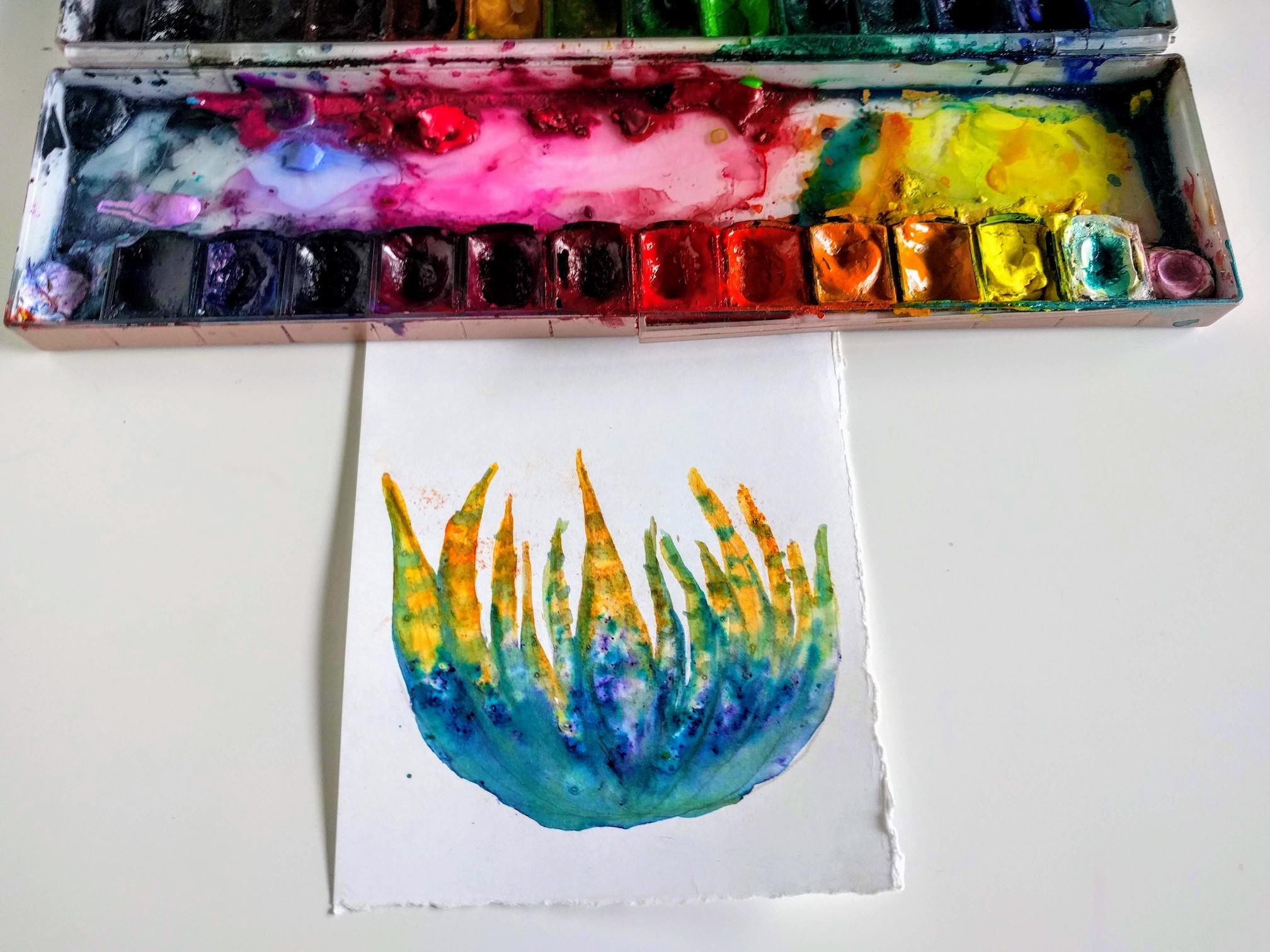 Today's tutorial is about sketching a zebra cactus using brusho crystals. Zebra cacti are another popular and fun cactus plants to watercolor. The typical colors for a zebra cactus is green and white but our sketch will be blue and yellow for a fun and whimsical effect.
You can find the first and second parts of the Watercolor Cactus Paintings for Beginners series. Or check out my YouTube playlist with all of the videos.
Just a reminder, this  watercolor cactus paintings series includes tutorials on how to sketch 3 different types of cacti, all using the watercolor brusho powders. The final sketch in the series will bring all of those watercolor cactus skills together into a fun composition. So stay tuned for that!
Happy Sketching!
(some of these posts may contain affiliate links, which are at no extra charge to you, but help me keep running this blog)
Watercolor Cactus Painting Series – Zebra Cactus With Brusho Crystals – Quick Instructional Video
Watercolor Supplies:
brusho powder watercolors

colors used in this tutorial: yellow and blue

Bristol paper
Water brush
Pencil for a quick outline sketch
Paper towel/towel
Reference photo of a saguaro cactus
Your creativity
Let's get to sketchin'!
How to Paint a Watercolor Cactus Using Brusho Crystals: Whimsical Zebra Cactus
A quick note about brusho – if you're not familiar with these powders they are pretty much magical and I hope you get some to play with because they are so much fun. They are essentially watercolor paints ground up into a powder that you can create different effects with. I often like to play with brusho to relax or unwind because they are so freeing and unpredictable.
Step 1. Start sketching the zebra cactus.

Begin your sketch by drawing c-shape curves. You'll notice the zebra cactus is composed of many c-curves, facing the right or left-hand side. And 2 c-curves meet at the middle to create the front leaf of the zebra cactus.
By the way, I am doing these brusho paintings on bristol paper because I like how resilient and smooth it is. And it's perfect for these sketches. But your standard watercolor paper will work as well.
Step 2. Keep adding more c-shapes to your cactus sketch.
Keep adding more similar but smaller shapes onto your cactus. We are creating a bit of depth by having some of the zebra cactus branches appear smaller because they are technically further from us.
Step 3. Start adding water
With your waterbrush pen, start adding water inside your sketch. Add a few drops (2-3) and then spread that out inside of your cactus shape. You might need to use 2 brushes for this – because the zebra cactus has lots of pointy leaves, it is easier to add water with the smallest size brush from the Mozart waterbrush set.
Note: you want to make sure you have plenty of water on your sketch because that will facilitate the brusho crystals to travel around easily.
Step 4. Start adding brusho watercolor crystals
Start by shaking some of the brusho onto your shape. You can play around with the proportions to your liking. In this sketch, I am using blue and yellow colors, keeping the tips in yellow.
Step 5. Outline your cactus
After you've added enough brusho, go in with a tiny waterbrush (I am using the smallest size from my Mozart waterbrush set) and draw the outlines of your cactus. This will help smooth out any inconsistencies and create a nice unified cactus shape with some shadow included from the lines you're adding. I am picking up some of the pigmented water off of my sketch and using that to add the outlines. That way you don't need to dip your brush into additional watercolour.
---