Happy Color Snack Sunday, friends!
If you've been hanging with me on the 'Gram, you'll know that I am taking a brief break from posting and interacting on there. For more details you can visit this post.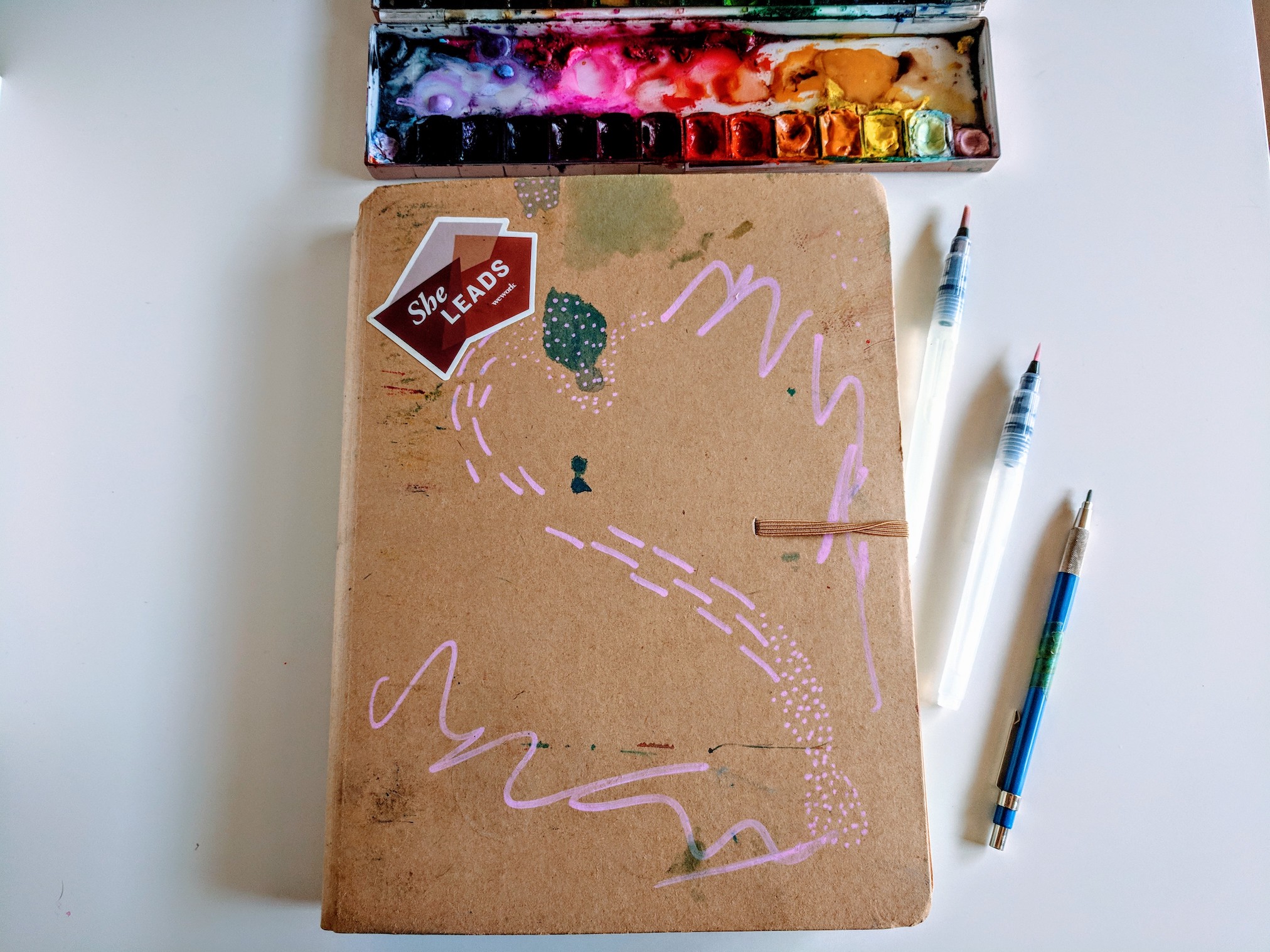 And while I'm taking a break from social media, I do want to keep up with my blog and for the month of August I decided to do a Sketchbook Tour series. I realized that I've recently finished quite a few sketchbooks and wanted to give you a peek at the insides – all my glorious messes and experiments. You'll see some put together illustrations, but you'll also see some ugly ones, and even one page that straight up says "This Sucks" (what can I say, your girl was having one of those days).
Watch the video below to see the tour and read on for some tips on how to fill up a giant sketchbook.
(some of these posts may contain affiliate links, which are at no extra charge to you, but help me keep running this blog)
Giant Sketchbook Tour
Tips on How To Fill Up a Giant Sketchbook
1. Give Your Sketchbook Time
It's totally ok to keep one such giant and very big sketchbook for a long time. It took me about 2+ years to finally finish it, because I'd come to back it when I wanted to explore a technique or experiment. Just keep it in plain sight if you can, so you don't forget you have it (guilty of it myself) and when that creative flow strikes you, open it up and get to playing.
 2. Give Your Sketchbook a Purpose
At any given time, I actually keep several sketchbooks where I work and bounce around from. Most of my sketchbooks serve as grounds for illustrations, but I have a few where I like to play and experiment. That's what I did with this sketchbook. I wanted to push its limits and mess it up as much as I could because it was so freeing.
3. Treat It Like an Experiment
Did I mention how I actually have a page where I wrote on top of my art "This Sucks"? And you know what, the sky didn't fall and I'm still alive, so it really is ok to have ugly pages. Best part? You don't have to show them to anyone, or you can even glue them together or make a collage. I like to look back at some of my less-than appealing experiments and remember not to try that technique or color combo the same way again.
4. Keep a Sketchbook Theme or Don't
You could also designate this sketchbook as one for portrait sketches. Or landscape sketches. Or sketches of your pet. Having a theme will be a nice element of restriction that can help with your creative flow. Personally, with this giant sketchbook – I started with a series of portraits but then proceeded to bounce around with themes and ideas and just ended up being a big soup of random sketches in different styles and using various tools.
5. Join a Challenge
Did someone say I can join another challenge??  😀
I think challenges can be really fun and engaging. And if you relax a little bit and just play along, you don't even have to beat yourself up for not finishing or  pausing it. During this giant sketchbook I joined several different challenges and classes. One of them was a Daily Floral Challenge with Pam Garrison on Creative Bug. I loved following along and getting inspired by her process and trying my hand at her techniques and putting my own twist on it.
6.  Too Big? Break It Up
Like I mentioned before, I like to work fairly small. So this was another challenge for me – the size of the sketchbook alone seemed a bit daunting at first. Since I am the boss of my own sketchbook, I decided to just make it work for me – I divided a lot of the bigger pages into smaller chunks so I could sketch a little better. There is a reason for the well known phrase that smaller chunks make an impossible task easier. It's just easier to take on and also takes less time in a sketch session if you're too busy.
7. Remember To Have Fun
Most important tip I can share is to remember to have fun. Sketchbooks are a perfect little environment where you can be as free as you wish you be, exploring all your creative sides – the happy, the sads.  Even on bad days, or super depressing days, I've found that it made me feel a little better, being able to just put brush to paper and see the colors do its magic.
I hope you give a giant sketchbook a try! And if you do, please please let me know. I'd love to see your sketchbook experiments.
Stay Creative,
xoxo
Volta
---
---

---